Think twice before checking that folding kayak as luggage on Alaska Airlines.
---
Two baggage handlers brought our belongings through a door and laid them in a heap at our feet. The shipping container was nowhere to be found. We got that back latter, but only after asking for it a few more times.
Back to top
The frame bag was originally packed inside of a shipping container. Curiously, only the parts that were packed inside of the frame bag were damaged. Hmmm.......
Back to top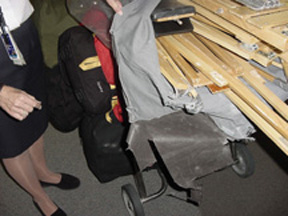 Back to top
The frame bag is closed by lacing a rope through grommets in the bag. the grommets are still on the rope. Did a baggage handler grab the rope? We'll never know, becuase Alaska Airlines did not investigate this incident.
Back to top